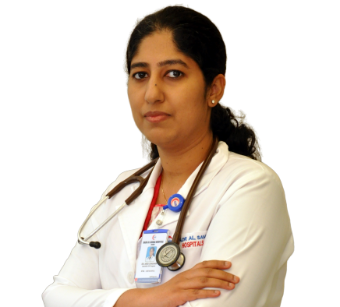 DR Anju Chauhan
Specialist ENT Surgeon
ENT
MBBS, MS(ENT), DNB(ENT)
5 years of experience
Ruwi (Oman)
About DR Anju Chauhan
Dr Anju Chauhan is a Specialist ENT Surgeon with vast experience in diagnosis and management of the most diverse cases in the field of otolaryngology. She completed her training from one of the most prestigious medical colleges of India. She is an expert in performing both paediatric and adult ENT surgeries using the latest surgical techniques and regularly carries out both routine and emergency ENT Surgeries such as ear, endoscopic nasal and laryngeal surgeries. She routinely attends conferences and workshops to stay updated with the latest advancements in the field of otolaryngology and has published various research papers.
Excellence & Experience
Area of excellence
Myringotomy with Grommet insertion
Tympanoplasty
Mastoidectomy
Nasal surgery such as septoplasty
Turbinoplasty
FESS
Endoscopic DCR
Paediatric ENT surgeries such as adenoidectomy, tonsillectomy, foreign body removal from ear or nose
Oral and laryngeal surgeries
Oral and oropharyngeal biopsies
Direct laryngoscopic assessment and biopsy
Micro laryngeal surgery for vocal cord lesions
Level of Experience
Dr Anju Chauhan has served in one of the biggest tertiary care government hospitals of India and is an expert in managing the whole gamut of ENT conditions including routine and emergency cases.
Awards & Academics
Academics Details
MBBS - Maulana Azad Medical College, Delhi - 2010
MS - Maulana Azad Medical College, Delhi - 2014
DNB (ENT) - National Board of Examinations, Delhi – 2015
Training in Advanced Functional Endoscopic Sinus Surgery - Singapore General Hospital - 2016
Out Patient Timings
The outpatient timings at Badr Al Samaa Hospitals have been planned in such a way that your choice of doctor is available whenever you are free.
Sunday
9:00 AM - 1:00 PM
Ruwi - Oman
5:00 PM - 9:00 PM
Ruwi - Oman
Monday
9:00 AM - 1:00 PM
Ruwi - Oman
5:00 PM - 9:00 PM
Ruwi - Oman
Tuesday
9:00 AM - 1:00 PM
Ruwi - Oman
5:00 PM - 9:00 PM
Ruwi - Oman
Wednesday
9:00 AM - 1:00 PM
Ruwi - Oman
5:00 PM - 9:00 PM
Ruwi - Oman
Thursday
9:00 AM - 1:00 PM
Ruwi - Oman
5:00 PM - 9:00 PM
Ruwi - Oman
Friday
Saturday
9:00 AM - 1:00 PM
Ruwi - Oman
5:00 PM - 9:00 PM
Ruwi - Oman