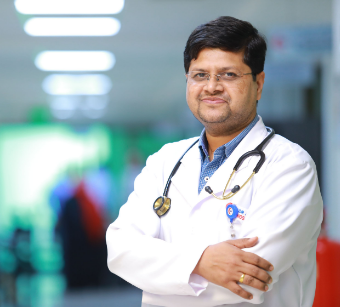 DR Arvind Kumar Misra
Specialist
Pulmonology
MBBS, MD (Pulmonology) Respiratory medicine
7 years of experience
Ruwi (Oman)
About DR Arvind Kumar Misra
Dr Arvind Kumar Misra is a Specialist Pulmonologist who has garnered quality experience during the course of his training in some of the most prestigious institutions in India. He has special interest in the field of interventional pulmonology and sleep-related breathing disorders. He also has vast experience in managing cases of obstructive airway diseases like asthma, COPD, respiratory failure and pulmonary tuberculosis. He is adept at performing procedures like nasopharyngoscopy, flexible fibreoptic bronchoscopy, endobronchial biopsy, medical thoracoscopy, FNAC lung and pleural biopsy. He is also proficient in the interpretation of PFT test, allergy test and arterial blood gas analysis.
Excellence & Experience
Area of excellence
Asthma, COPD and other obstructive airway diseases
Sleep Related Breathing Disorders
Flexible bronchoscopy
Medical Thoracoscopy
USG guided thoracocentesis
Other pulmonary procedures
Level of Experience
Chest Physician - Cooperative Hospital, Alappuzha, Kerala, India
Pulmonologist - Government T D Medical College Hospital, Alappuzha, kerala, India
Awards & Academics
Academics Details
MD - Institute Of Medical Sciences (Banaras Hindu University) - 2014
MBBS - Govt. T.D. Medical College, Alappuzha (Kerala University) - 2005
Out Patient Timings
The outpatient timings at Badr Al Samaa Hospitals have been planned in such a way that your choice of doctor is available whenever you are free.
Sunday
9:00 AM - 1:00 PM
Ruwi - Oman
5:00 PM - 9:00 PM
Ruwi - Oman
Monday
9:00 AM - 1:00 PM
Ruwi - Oman
5:00 PM - 9:00 PM
Ruwi - Oman
Tuesday
9:00 AM - 1:00 PM
Ruwi - Oman
5:00 PM - 9:00 PM
Ruwi - Oman
Wednesday
9:00 AM - 1:00 PM
Ruwi - Oman
5:00 PM - 9:00 PM
Ruwi - Oman
Thursday
9:00 AM - 1:00 PM
Ruwi - Oman
5:00 PM - 9:00 PM
Ruwi - Oman
Friday
Saturday
9:00 AM - 1:00 PM
Ruwi - Oman
5:00 PM - 9:00 PM
Ruwi - Oman