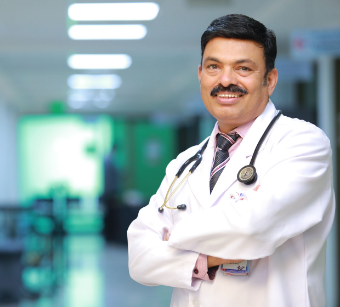 DR Basheer Alikaparambil
Specialist
Internal Medicine
MD (Internal Med), S.A.C. Diploma(Diabetis-UK)
29 years of experience
Ruwi (Oman)
About DR Basheer Alikaparambil
Dr Basheer Alikaparambil is a Senior Internist who is well known all over Oman and is currently heading the department of Internal Medicine and the Medical ICU. With over 27 years of clinical experience, he is an expert in managing the most complicated cases such as septicaemia, acute asthma, pneumonia and diabetic complications. He also conducts the asthma and diabetes clinics and his vast expertise has made the Internal Medicine Department one of the most popular referral centres in Oman. Aside from regularly updating his qualifications, Dr Basheer Alikaparambil frequently conducts awareness programs on radio, TV and social media.
Excellence & Experience
Area of excellence
Community acquired pneumonia
Critical care medicine
Diabetes mellitus and other endocrine disorders
Bronchial asthma
Level of Experience
Dr Basheer Alikaparambil has worked in various renowned tertiary hospitals in India and other countries
Currently working as Head of Dept of Internal Medicine and Medical ICU at Badr Al Samaa Hospital, Ruwi, Oman
Awards & Academics
Academics Details
Diploma in Diabetes – S.A.C., UK - 2011
Post Graduate training in Diabetes - American Diabetes Association - 2012
Advance training in Diabetes - Harvard University, USA - 2018
Training in ICU procedures, Chicago, USA - 2019
MD (Internal Medicine) - Glancy Govt Medical College, Amritsar - 1996
MBBS – Calicut Medical College - 1992
Out Patient Timings
The outpatient timings at Badr Al Samaa Hospitals have been planned in such a way that your choice of doctor is available whenever you are free.
Sunday
9:00 AM - 1:00 PM
Ruwi - Oman
4:00 PM - 8:00 PM
Ruwi - Oman
Monday
9:00 AM - 1:00 PM
Ruwi - Oman
4:00 PM - 8:00 PM
Ruwi - Oman
Tuesday
9:00 AM - 1:00 PM
Ruwi - Oman
4:00 PM - 8:00 PM
Ruwi - Oman
Wednesday
9:00 AM - 1:00 PM
Ruwi - Oman
4:00 PM - 8:00 PM
Ruwi - Oman
Thursday
9:00 AM - 1:00 PM
Ruwi - Oman
4:00 PM - 8:00 PM
Ruwi - Oman
Friday
Saturday
9:00 AM - 1:00 PM
Ruwi - Oman
4:00 PM - 8:00 PM
Ruwi - Oman