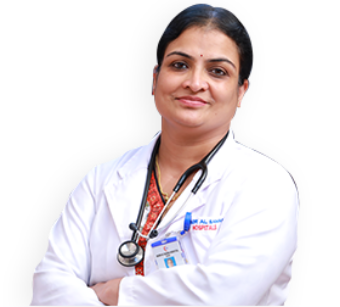 DR Geeta Deepak
Specialist Gynaecologist
Obstetrics & Gynaecology
MD, DGO, DNB
24 years of experience
Ruwi (Oman)
About DR Geeta Deepak
Dr Geeta Deepak is our senior-most gynaecologist who joined as a pioneering staff of the department. Over the years, she has had extensive experience in some of the best hospitals in India and has worked with eminent endoscopic surgeons and oncologists. She practises her clinical and surgical expertise here and has over 7000 deliveries to her credit in Oman. She follows the three C's – Clinical excellence, Care and Communication to get the best outcome for her patients. Along with simple procedures, Dr Geeta Deepak also executes the most complicated gynaecological surgeries with expertise. She also conducts awareness programs and attends CMEs regularly.
Excellence & Experience
Area of excellence
High risk obstetrics
Infertility
Adolescent gynaecology
Colposcopy
Gynaecological Endoscopy
Regular antenatal and postnatal care
Level of Experience
Assistant to senior consultants - Jaslok Hopital
Lecturer - Terna Medical College
Consultant Gynaecologist - Elite Mission Hospital, Thrissur
Consultant Gynaecologist - Banagara Cooperative Hospital
Specialist at Badr Al Samaa Hospital since 2002
Awards & Academics
Academics Details
MBBS- Seth.G.S Medical College and KEM Hospital, Mumbai
MD - T.N. Medical College and B.Y.L. Nair Charitable Hospital, Mumbai
DGO- College of Physicians and Surgeons, Mumbai
DNB- National Board of Examinations – New Delhi
Comprehensive Colposcopy course (Basic and Advanced) – Certified by The British Society for Colposcopy and Cervical Pathology
Comprehensive course in Hysteroscopy – Certified by The British Society of Gynaecological Endoscopy
Comprehensive Obstetrics and Gynaecology Ultrasound Course – Certified by ISUOG
Out Patient Timings
The outpatient timings at Badr Al Samaa Hospitals have been planned in such a way that your choice of doctor is available whenever you are free.
Sunday
9:00 AM - 3:00 PM
Ruwi - Oman
Monday
9:00 AM - 3:00 PM
Ruwi - Oman
Tuesday
9:00 AM - 3:00 PM
Ruwi - Oman
Wednesday
9:00 AM - 3:00 PM
Ruwi - Oman
Thursday
Friday
9:00 AM - 3:00 PM
Ruwi - Oman
Saturday
9:00 AM - 3:00 PM
Ruwi - Oman