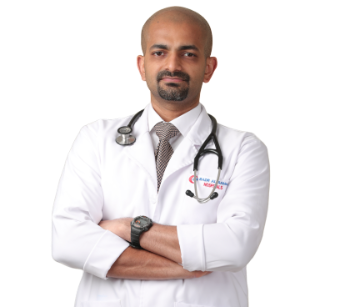 DR Manohar S D Noon
MBBS,MD, MRCP (UK) Internal Medicine ,Endocrinology& Diabetes, Internal Medicine
Specialist
7 years of experience
Ruwi (Oman)
About DR Manohar S D Noon
Dr Manohar S. D. Noone is a highly-experience Specialist in Internal Medicine with special interest in Endocrinology and Diabetes. He also has hands-on experience in managing renal failure as well as dialysis procedures for ARF and CRF. He is also an expert in plural effusion biopsies, bone marrow biopsies and FNAs. He is skilled in caring for patients with resistant hypertension, thyroid disorders and metabolic disorders.  Dr Manohar S. D. Noone is excellent in emergency situations as he is very efficient in wound debridement and suturing, management of cardiac arrest, cardio-respiratory failure,  ACLS as well as cannulation, central line insertion and creating intra-arterial access.

Excellence & Experience
Area of excellence
Diabetes and associated complications
Resistant hypertension
Thyroid disorders
Endocrinological conditions affecting pregnancy
Metabolic disorders
Acute care for renal failure, Cardio-respiratory failure and Poisoning
Level of Experience
7 years post- MD experience
Awards & Academics
Academics Details
MBBS - Christian Medical College Vellore - 2005
MD Internal Medicine - K.M.C. Mangalore - 2012
MRCP (Endocrinology & Diabetes) SCE - 2017
Videos of DR Manohar S D Noon
You can get to know more details here about the doctor who will be treating you, and their professional expertise in their field of specialisation.
Top Procedures Done By DR Manohar S D Noon
Out Patient Timings
The outpatient timings at Badr Al Samaa Hospitals have been planned in such a way that your choice of doctor is available whenever you are free.
Sunday
Monday
10:00 AM - 1:00 PM
Ruwi - Oman
5:00 PM - 10:00 PM
Ruwi - Oman
Tuesday
10:00 AM - 1:00 PM
Ruwi - Oman
5:00 PM - 10:00 PM
Ruwi - Oman
Wednesday
10:00 AM - 1:00 PM
Ruwi - Oman
5:00 PM - 10:00 PM
Ruwi - Oman
Thursday
10:00 AM - 1:00 PM
Ruwi - Oman
5:00 PM - 10:00 PM
Ruwi - Oman
Friday
10:00 AM - 1:00 PM
Ruwi - Oman
5:00 PM - 10:00 PM
Ruwi - Oman
Saturday
10:00 AM - 1:00 PM
Ruwi - Oman
5:00 PM - 10:00 PM
Ruwi - Oman
Blogs Written by DR Manohar S D Noon