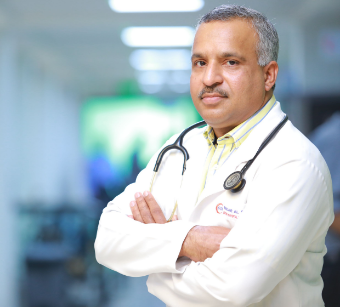 DR Moideen Kunhi
MS (Ortho), Orthopaedics
Specialist Orthopaedic
20+ years of experience
Ruwi (Oman)
About DR Moideen Kunhi
Dr Moideen Kunhi is a Specialist Orthopaedic and Trauma surgeon with vast experience spanning over 20 years in orthopaedics. He has further undertaken fellowship in Arthroplasty and gained experience in Keyhole and Trauma surgeries. He performed the first minimally invasive Humerus locking plate and single incision forearm bones fixation in the Private Health Sector in Oman. He is also an expert in percutaneous (no surgical incision) fracture fixation and has helped many patients to leave hospital early with no surgical scars. Dr Moideen Kunhi is an asset to the emergency section as well as to the orthopaedics department.
Excellence & Experience
Area of excellence
Advanced trauma surgeries
Percutaneous and Minimally invasive surgeries
Chronic pain management
Percutaneous tendon releases
Arthroscopy of knee
Foot and ankle surgeries
Level of Experience
Assistant Professor - Kannur Medical College, India - 1999-2004
Badr Al Samaa - 2004 to date
Awards & Academics
Academics Details
MS Orthopaedics- Father Mullers Medical College, Mangalore
MBBS - Kasturba Medical College, Mangalore
Videos of DR Moideen Kunhi
You can get to know more details here about the doctor who will be treating you, and their professional expertise in their field of specialisation.
Top Procedures Done By DR Moideen Kunhi
Out Patient Timings
The outpatient timings at Badr Al Samaa Hospitals have been planned in such a way that your choice of doctor is available whenever you are free.
Sunday
9:00 AM - 1:00 PM
Ruwi - Oman
4:30 PM - 8:30 PM
Ruwi - Oman
Monday
9:00 AM - 1:00 PM
Ruwi - Oman
4:30 PM - 8:30 PM
Ruwi - Oman
Tuesday
9:00 AM - 1:00 PM
Ruwi - Oman
4:30 PM - 8:30 PM
Ruwi - Oman
Wednesday
9:00 AM - 1:00 PM
Ruwi - Oman
4:30 PM - 8:30 PM
Ruwi - Oman
Thursday
9:00 AM - 1:00 PM
Ruwi - Oman
4:30 PM - 8:30 PM
Ruwi - Oman
Friday
9:00 AM - 1:00 PM
Ruwi - Oman
4:30 PM - 8:30 PM
Ruwi - Oman
Saturday
9:00 AM - 1:00 PM
Ruwi - Oman
4:30 PM - 8:30 PM
Ruwi - Oman
Blogs Written by DR Moideen Kunhi