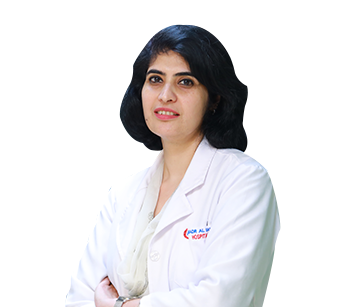 DR Nupur Satija
Specialist Dentist
Dentistry
BDS, MDS (Oral Medicine & Radiology) PGDHHM
14 years of experience
Ruwi (Oman)
About DR Nupur Satija
Dr. Nupur Satija is a highly experienced General Dentist who has been working in Oman since 2016. She has vast experience as a General Dentist as well as an Oral Physician and Maxillofacial Radiologist. Aside from RCTs, extractions, alveoloplasty, crowns & bridges, she is also an expert in complete & partial dentures, veneers, pulp capping and restorations.  She has been engaged in Head & Neck Radiography, diagnosis, prevention & treatment of potentially Malignant Lesions & associated Conditions. She has attended numerous conferences and presented a number of award-winning presentations too. She has also participated in several Screening and Treatment Camp
Excellence & Experience
Area of excellence
Night guard for Bruxism
Treatment of dentinal hypersensitivity
Potentially Malignant Lesions & Conditions, Oral Cancer, Cysts and Tumours
TMJ Disorders, Orofacial Pain & Different Lesions of Oral Cavity
Infections/lesions of oral cavity and head and neck region
Incisional and excisional Biopsy
Head & Neck Radiography
RCT, Re –RCT, Post and Core, Pulpectomy /Pulpotomy, Apexification
Extractions including 3 rd molars, Hemisection, Alveoloplasty
Scaling- Root Planing & Curettage, Treatment of dry socket
Pulp Capping, Tooth coloured restorations
Crowns & Bridges
Complete & Partial Dentures
Veneering & Laminates
Teeth whitening
Level of Experience
Dr Nupur Satija has a valuable experience of more than 13 years in the field of Dentistry.
She has practiced General Dentistry, Aesthetic Dentistry & has worked as an Oral Physician and Maxillofacial Radiologist.
Awards & Academics
Academics Details
MDS (Dental Surgery-Oral Medicine and Radiology) - Mahatma Gandhi Dental College and Hospital, MGUMST, Jaipur - 2014
PGDHHM (PG Diploma in Hospital and Healthcare Management) - Symbiosis Centre of Healthcare, Pune - 2011
BDS - Dr Syamala Reddy Dental College and Hospital, Bangalore - 2006
Out Patient Timings
The outpatient timings at Badr Al Samaa Hospitals have been planned in such a way that your choice of doctor is available whenever you are free.
Sunday
9:00 AM - 1:00 PM
Ruwi - Oman
5:00 PM - 9:00 PM
Ruwi - Oman
Monday
9:00 AM - 1:00 PM
Ruwi - Oman
5:00 PM - 9:00 PM
Ruwi - Oman
Tuesday
9:00 AM - 1:00 PM
Ruwi - Oman
5:00 PM - 9:00 PM
Ruwi - Oman
Wednesday
9:00 AM - 1:00 PM
Ruwi - Oman
5:00 PM - 9:00 PM
Ruwi - Oman
Thursday
Friday
9:00 AM - 1:00 PM
Ruwi - Oman
5:00 PM - 9:00 PM
Ruwi - Oman
Saturday
9:00 AM - 1:00 PM
Ruwi - Oman
5:00 PM - 9:00 PM
Ruwi - Oman