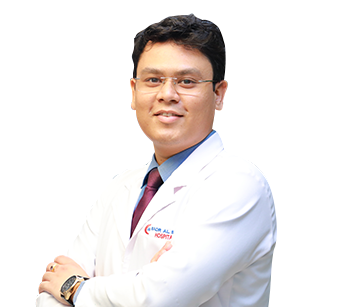 DR Saptarshi Hazarika
Specialist Orthodontist
Dentistry
BDS, MDS (Orthodontics & Dentofacial Orthopaedics)(NYU,USA)
11 years of experience
Ruwi (Oman)
About DR Saptarshi Hazarika
Dr Saptarshi Hazarika is a Specialist Orthodontist with excellent experience in Dento-facial orthopaedics. He is also a certified Nasoalveolar Molding provider for specialised repair of Cleft Lip/Palate patients.  Dr Saptarshi Hazarika has undergone further training as an 'invisalign' Orthodontist as well as a certified Lingual Orthodontist. He is experienced in modern techniques like providing transparent appliances for aligning teeth, in place of the older and more uncomfortable braces technique. He has also served as a Senior Lecturer in the Department of Orthodontics & Dentofacial Orthopaedics in an esteemed Dental College in India. Dr Saptarshi Hazarika participates in conferences regularly and has many publications. He is a fellow of World Federation of Orthodontists as well.

Excellence & Experience
Area of excellence
Nasoalveolar Molding for Cleft lip/palates
Invisible Orthodontics (invisalign and Lingual Orthodontics)
Conventional Braces (Metal and Ceramic Braces)
Self-Ligating Braces (Metal and Ceramic Braces)
Adult Orthodontics.
Myofunctional Appliance treatment
Removable Orthodontic Appliance treatment (Space Maintainers, Habit Breaking appliances)
Level of Experience
Worked as Consultant Orthodontist in various Clinics and Hospitals in India since 2014
Served as a Senior Lecturer in the Department of Orthodontics & Dentofacial Orthopaedics
Orthopaedic Appliances (Headgear, Facemask Appliances)
Awards & Academics
Academics Details
BDS – DAPM R.V. Dental College, Bangalore - 2008
MDS - Ragas Dental College & Hospital, Chennai - 2014
Certified Nasoalveolar Molding for Cleft Lip/Palate patients from NYU, U.S.A. - 2018
Fellowship from World Federation of Orthodontists, 2019
Videos of DR Saptarshi Hazarika
You can get to know more details here about the doctor who will be treating you, and their professional expertise in their field of specialisation.
Out Patient Timings
The outpatient timings at Badr Al Samaa Hospitals have been planned in such a way that your choice of doctor is available whenever you are free.
Sunday
9:00 AM - 1:00 PM
Ruwi - Oman
5:00 PM - 9:00 PM
Ruwi - Oman
Monday
9:00 AM - 1:00 PM
Ruwi - Oman
5:30 PM - 8:30 PM
Ruwi - Oman
Tuesday
9:00 AM - 1:00 PM
Ruwi - Oman
5:00 PM - 9:00 PM
Ruwi - Oman
Wednesday
9:00 AM - 1:00 PM
Ruwi - Oman
5:00 PM - 9:00 PM
Ruwi - Oman
Thursday
9:00 AM - 1:00 PM
Ruwi - Oman
5:00 PM - 9:00 PM
Ruwi - Oman
Friday
Saturday
9:00 AM - 1:00 PM
Ruwi - Oman
5:00 PM - 9:00 PM
Ruwi - Oman