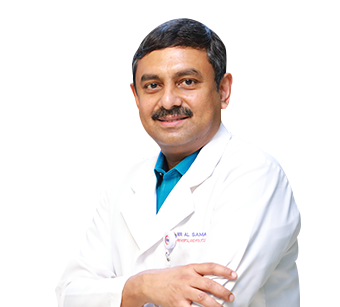 Dr Sharat Vijayan
Dentist
Dentistry
BDS
31 years of experience
Ruwi (Oman)
About Dr Sharat Vijayan
Dr Sharat Vijayan is an outstanding Dental Surgeon with a treasure trove of exceptional experience spanning 28 years. For the last 23 years he has been practising in the GCC countries and is well-versed with the commonly-seen problems here. He has mastery over all the commonly performed dental procedures and believes in keeping himself updated with the newest technologies. He has recently completed certificate courses in Dental Implantology as well as on Laser Dentistry. Dr Sharat Vijayan is an exceptional surgeon who also attends conferences and CMEs regularly and has presented papers.
Excellence & Experience
Area of excellence
RCT
Impacted tooth surgeries
Pulp Capping, Tooth coloured restorations
Crowns & Bridges
Complete & Partial Dentures
Veneering & Laminates
Teeth whitening
Night guard for Bruxism
Aesthetic Smile Designing
Level of Experience
28 years of working as a General Dentist of which 23 years as a senior Dentist in the GCC.
8 Years with the Badrudin Medical Group Based at Riyadh, KSA
15 Years with Badr al Samaa Group of Hospitals and Medical Centres, Muscat
Awards & Academics
List of awards
College Topper during BDS
Best Outgoing Student Award in Periodontology from the Indian Periodontology Society in 1990
Academics Details
BDS – Government Dental College, Calicut - 1990
Out Patient Timings
The outpatient timings at Badr Al Samaa Hospitals have been planned in such a way that your choice of doctor is available whenever you are free.
Sunday
9:00 AM - 1:00 PM
Ruwi - Oman
5:00 PM - 9:00 PM
Ruwi - Oman
Monday
9:00 AM - 1:00 PM
Ruwi - Oman
5:00 PM - 9:00 PM
Ruwi - Oman
Tuesday
9:00 AM - 1:00 PM
Ruwi - Oman
5:00 PM - 9:00 PM
Ruwi - Oman
Wednesday
9:00 AM - 1:00 PM
Ruwi - Oman
5:00 PM - 9:00 PM
Ruwi - Oman
Thursday
9:00 AM - 1:00 PM
Ruwi - Oman
5:00 PM - 9:00 PM
Ruwi - Oman
Friday
Saturday
9:00 AM - 1:00 PM
Ruwi - Oman
5:00 PM - 9:00 PM
Ruwi - Oman