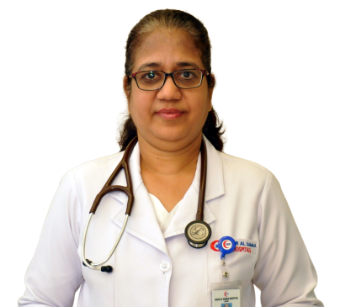 Dr Sofi Rangawala
Specialist Pathologist
Pathology
MBBS, DCP
23 years of experience
Ruwi (Oman)
About Dr Sofi Rangawala
Dr Sofi Rangwala is an expert Clinical Pathologist and is currently holding the position of Head of Department of Laboratories in the Badr Al Samaa group of Hospitals and Medical Centres. She is very vigilant about the quality of assays being carried out as well as ensuring the latest technologies are used for analysing samples sent to the department. She works in tandem with the physicians and assists them in making the right diagnosis. Dr Sofi Rangwala has over 20 years of exceptional experience in her field and is very dedicated to her profession. 

Excellence & Experience
Area of excellence
Immunology
Serology
Haematology
Pathology
Cytology
Level of Experience
Joined Badr Al Samaa Group of Hospitals and Medical Centres in 2002 till Date
Awards & Academics
Academics Details
MBBS – Maharaja Sayajirao University, Vadodara, India 1992
DCP (Diploma in Clinical Pathology) 1994
Out Patient Timings
The outpatient timings at Badr Al Samaa Hospitals have been planned in such a way that your choice of doctor is available whenever you are free.
Sunday
9:00 AM - 1:00 PM
Ruwi - Oman
Monday
9:00 AM - 1:00 PM
Ruwi - Oman
Tuesday
9:00 AM - 1:00 PM
Ruwi - Oman
Wednesday
9:00 AM - 1:00 PM
Ruwi - Oman
Thursday
9:00 AM - 1:00 PM
Ruwi - Oman
Friday
Saturday
9:00 AM - 1:00 PM
Ruwi - Oman