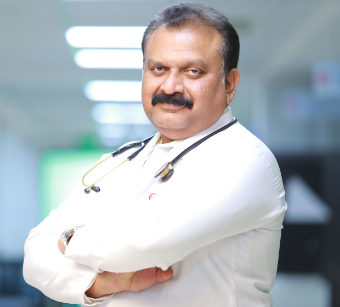 Dr Vijay Simha D
Specialist Ophthalmologist
Ophthalmology
DO, DNB
26 years of experience
Ruwi (Oman)
About Dr Vijay Simha D
Dr Vijay Simha Doreswamy is a Specialist Ophthalmologist with vast experience in his field. He is very experienced in the assessment, diagnosis and treatment of eye diseases, having over 23 years of rich experience from working in India and Oman. He is also very skilled in refraction studies and eye examinations including screening, Lens Prescription, Trauma Care and Occupational eye check-ups. He is an expert in the diagnosis and management of glaucoma too, as well as foreign body removals and other anterior segment diseases. He is also skilled in treatment of diabetic retinopathies as well as hypertensive retinopathies.
Excellence & Experience
Area of excellence
Small Incision Cataract Surgery with Intraocular Lens Implantation
Diagnosis & Management of Glaucoma
Anterior Segment Diseases
Level of Experience
23 years of work experience
Little Flower Hospital, Angamaly
Mysore Race Club Eye Hospital, Mysore
Tata Tea General Hospital, Munnar, Kerala
Badr Al Samaa Hospital, Ruwi, Oman
Awards & Academics
Academics Details
MBBS. - KMC, Manipal - 1991
DO - KMC, Manipal - 1996
DNB - Little Flower Hospital, Angamaly, Kerala - 2002
Certified Coding Associate AHIMA, Chicago, USA
Out Patient Timings
The outpatient timings at Badr Al Samaa Hospitals have been planned in such a way that your choice of doctor is available whenever you are free.
Sunday
9:00 AM - 1:00 PM
Ruwi - Oman
5:00 PM - 9:00 PM
Ruwi - Oman
Monday
9:00 AM - 1:00 PM
Ruwi - Oman
5:00 PM - 9:00 PM
Ruwi - Oman
Tuesday
9:00 AM - 1:00 PM
Ruwi - Oman
5:00 PM - 9:00 PM
Ruwi - Oman
Wednesday
9:00 AM - 1:00 PM
Ruwi - Oman
5:00 PM - 9:00 PM
Ruwi - Oman
Thursday
9:00 AM - 1:00 PM
Ruwi - Oman
5:00 PM - 9:00 PM
Ruwi - Oman
Friday
Saturday
9:00 AM - 1:00 PM
Ruwi - Oman
5:00 PM - 9:00 PM
Ruwi - Oman