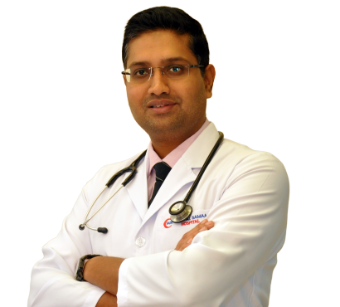 DR Manns Manohar John
Specialist Nephrologist
Nephrology
MBBS, MD, (Internal Medicine), DM (Nephro)
9 years of experience
Ruwi (Oman)
About DR Manns Manohar John
Dr Manns Manohar John is an outstanding Specialist Nephrologist with over 7 years of clinical experience in the field of nephrology. His long stint in medical institutes of great repute has armed him with the expertise in management of conditions such as hypertension, haemodialysis and interventional nephrology. He has also got experience in kidney biopsies as well as kidney transplantations. Dr Manns Manohar John is interested in academics too and has many original research publications in national and international journals. He has also attended many national and international conferences in his quest to stay abreast of the latest information in his field.
Excellence & Experience
Area of excellence
Haemodialysis
Hypertension
Interventional nephrology
Kidney biopsy
Kidney transplantation
Glomerular disease
Level of Experience
Assistant Professor – Dept of Nephrology, Ramiah medical College, Bangalore – 2015-2019
Consultant Nephrologist – Dept of Nephrology, Ramiah Medical College, Bangalore – 2016-2019
Awards & Academics
Academics Details
MBBS – Kasturba Medical College, Mangalore - 2008
MD (Internal Med) – Bangalore Medical College - 2011
DM (Nephrology) – Sanjay Gandhi Post Graduate Medical Institute, Lucknow - 2015
Out Patient Timings
The outpatient timings at Badr Al Samaa Hospitals have been planned in such a way that your choice of doctor is available whenever you are free.
Sunday
9:00 AM - 1:00 PM
Ruwi - Oman
5:00 PM - 9:00 PM
Ruwi - Oman
Monday
9:00 AM - 1:00 PM
Ruwi - Oman
5:00 PM - 9:00 PM
Ruwi - Oman
Tuesday
9:00 AM - 1:00 PM
Ruwi - Oman
5:00 PM - 9:00 PM
Ruwi - Oman
Wednesday
9:00 AM - 1:00 PM
Ruwi - Oman
5:00 PM - 9:00 PM
Ruwi - Oman
Thursday
9:00 AM - 1:00 PM
Ruwi - Oman
5:00 PM - 9:00 PM
Ruwi - Oman
Friday
Saturday
9:00 AM - 1:00 PM
Ruwi - Oman
5:00 PM - 9:00 PM
Ruwi - Oman