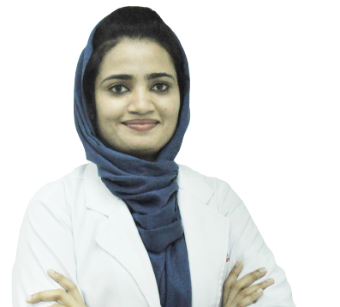 Dr Nadeesha Basheer
Dietitian
Dietetics
Msc (Food & Nutrition)
10 years of experience
Ruwi (Oman)
About Dr Nadeesha Basheer
Nadeesha Basheer is a clinical dietician with special expertise in managing heart disease, hypertension and Real Disease. She completed her B. Sc in Clinical Nutrition & Dietetics (MG University) in 2014 and her Post Graduation in Clinical Nutrition & Dietetics in 2016. She has worked as a Dietitian at a Multispecialty CMC hospital, Vellore
She treats a variety of conditions by advising on diet and nutrition. She helps patients with weight loss and weight management, and treatment of overweight and obesity. She advises patients of hypertension, high cholesterol, pre-diabetes and diabetes. She also helps patients who suffer from food intolerances. Nadeesha advises on the right diet and nutrition for pregnancy, breastfeeding and gestational diabetes.

Excellence & Experience
Area of excellence
Diabetes
Weight Management
Kidney Disorders
Thyroid Disorders
Level of Experience
Heart Disease
2016 – 2018 –Dietitian at CMC Hospital, Vellore.
2018 – 2019 –Dietitian at Valliyath Hospital, Kerala
2019-present- Badr Al Samaa Hospital, Ruwi, Muscat
Awards & Academics
Academics Details
Post-Graduation in Clinical Nutrition and Dietetics (CMC VELLORE)(2016)
B. Sc. in Clinical Nutrition & Dietetics, Alphonsa College, Pala (2014)
Out Patient Timings
The outpatient timings at Badr Al Samaa Hospitals have been planned in such a way that your choice of doctor is available whenever you are free.
Sunday
9:00 AM - 2:00 PM
Ruwi - Oman
4:00 PM - 9:00 PM
Ruwi - Oman
Monday
9:00 AM - 2:00 PM
Ruwi - Oman
4:00 PM - 9:00 PM
Ruwi - Oman
Tuesday
9:00 AM - 2:00 PM
Ruwi - Oman
4:00 PM - 9:00 PM
Ruwi - Oman
Wednesday
9:00 AM - 2:00 PM
Ruwi - Oman
4:00 PM - 9:00 PM
Ruwi - Oman
Thursday
9:00 AM - 2:00 PM
Ruwi - Oman
4:00 PM - 9:00 PM
Ruwi - Oman
Friday
Saturday
9:00 AM - 2:00 PM
Ruwi - Oman