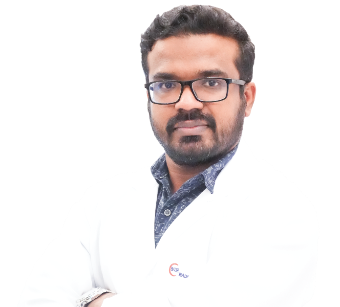 Dr Suhail C K
Critical Care Specialist
Anaesthesiology
MBBS, MD, DNB, EDAIC
12 years of experience
Ruwi (Oman)
About Dr Suhail C K
Dr. Suhail C K is an anesthesiologist with enough exposure in sub specialities like Urology, Gastro-Surgery, Orthopedics, Neurosurgery and Obstetrics.
He has worked extensively in critical care units which includes both medical and surgical ICU. He is trained in basic and advanced hemodynamic monitoring and mechanical ventilation. He is well versed in managing difficult airways. 

Excellence & Experience
Area of excellence
Ultra sound Guided Regional Anesthesia
Critical Care
Level of Experience
Dr. Suhail C K has worked in many corporate hospital in India before joining Badr Al Samaa Group of hospitals.
Awards & Academics
Academics Details
MBBS, Jubilee Mission Medical College, Thrissur, Kerala (2010)
MD, Seth GS Medical College and KEM Hospital, Mumbai, Maharashtra (2016)
DNB, Diplomat of National Board (2016)
EDAIC (2019)
Out Patient Timings
The outpatient timings at Badr Al Samaa Hospitals have been planned in such a way that your choice of doctor is available whenever you are free.
Sunday
9:00 AM - 1:00 PM
Ruwi - Oman
5:00 PM - 9:00 PM
Ruwi - Oman
Monday
9:00 AM - 1:00 PM
Ruwi - Oman
5:00 PM - 9:00 PM
Ruwi - Oman
Tuesday
9:00 AM - 1:00 PM
Ruwi - Oman
5:00 PM - 9:00 PM
Ruwi - Oman
Wednesday
9:00 AM - 1:00 PM
Ruwi - Oman
5:00 PM - 9:00 PM
Ruwi - Oman
Thursday
9:00 AM - 1:00 PM
Ruwi - Oman
5:00 PM - 9:00 PM
Ruwi - Oman
Friday
9:00 AM - 1:00 PM
Ruwi - Oman
5:00 PM - 9:00 PM
Ruwi - Oman
Saturday
9:00 AM - 1:00 PM
Ruwi - Oman
5:00 PM - 9:00 PM
Ruwi - Oman