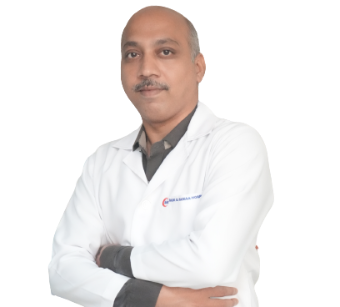 Dr R Ganesan
Consultant – Interventional Cardiology
Cardiology
MD, DM (Cardiology), FESC
11 years of experience
Ruwi (Oman)
About Dr R Ganesan
Dr. R Ganesan is a very well qualified and experienced interventional cardiologist. he is doing major diagnostic and therapeutic cardiology non-invasive and interventional procedures like angina pectoris, coronary heart disease, atherosclerosis, myocardial infarction, and several other disorders of the cardiovascular system. he has comprehensive knowledge on the different diseases of the heart and blood vessels and the procedures involved in their diagnosis and treatment.
 He has written many research papers on advanced treatment procedures in interventional cardiology which are published by national and international journals like the Indian heart journal. 
Excellence & Experience
Area of excellence
Primary Angioplasties
PTCA with Stenting
Cardiac Critical Care
Non-Invasive Cardiology
Preventive Cardiology
Chronic Total Occlusion (CTO)
Bifurcation Percutaneous Coronary Intervention (PCI)
Intravascular Ultrasound (IVUS) / Optical Coherence Tomography (OCT)
Rotablation IABP
Transesophageal ECHO (TEE)
Dobutamine Stress ECHO (DSE)
Level of Experience
He has worked as consultant interventional cardiologist in prestigious institutions before coming to Oman.
Awards & Academics
Academics Details
MBBS; Chengalpattu Medical College, Tamil Nadu, India (2006)
MD (Internal Medicine); Government Stanley Medical College, Chennai, Tamil Nadu, India (2011)
DM (Cardiology); Institute of Cardiology, Madras Medical College, Chennai, Tamil Nadu, India (2016)
FESC (Fellow of European Society of Cardiology)
Out Patient Timings
The outpatient timings at Badr Al Samaa Hospitals have been planned in such a way that your choice of doctor is available whenever you are free.
Sunday
9:00 AM - 1:00 PM
Ruwi - Oman
5:00 PM - 9:00 PM
Ruwi - Oman
Monday
9:00 AM - 1:00 PM
Ruwi - Oman
5:00 PM - 9:00 PM
Ruwi - Oman
Tuesday
9:00 AM - 1:00 PM
Ruwi - Oman
5:00 PM - 9:00 PM
Ruwi - Oman
Wednesday
9:00 AM - 1:00 PM
Ruwi - Oman
5:00 PM - 9:00 PM
Ruwi - Oman
Thursday
9:00 AM - 1:00 PM
Ruwi - Oman
5:00 PM - 9:00 PM
Ruwi - Oman
Friday
Saturday
9:00 AM - 1:00 PM
Ruwi - Oman
5:00 PM - 9:00 PM
Ruwi - Oman